Depolarisation Activism for Resilient Europe (DARE) – new educational materials on current challenges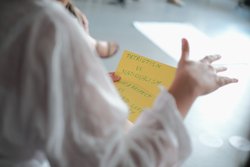 Addressing the challenges of today's world and empowering young people to shape their environment and take accountability – this is what our new innovative educational materials will help you to do!
Here's what we have created for you to make your lessons attractive and effective for your students:
1. Lesson plans and videos. They are divided into two categories:
"DARE to Care" materials show inspiring young individuals who deal with various social problems and challenges and make a difference in their communities.

"Modern Challenges" materials deconstruct complex phenomena, providing an introduction to contemporary social issues such as polarisation, radicalisation, and disinformation.
2. Educators' Guide to Depolarisation
Developed to build teachers' and youth workers' skills in the domain of addressing and successfully engaging with polarising views and topics. The guide's theoretical section uncovers the psychology and sociology of polarisation in society, and it is followed by exercises and activities that build an understanding of polarisation and knowledge on how to diffuse or disarm it.
3. Radicalisation awareness training plan and the accompanying materials
Developed to build teachers', educators', and youth workers' understanding of the process of radicalisation.
The training includes short lectures and group discussions and is based on a review of relevant academic material, research evidence, and inspiring practices. It raises awareness about the problem of radicalisation and violent extremism, its universality and the danger it poses in Europe, and for European values.
4. European Values Cards
This card set is a mix of European Union history, philosophy, human rights, democratic values and principles, and contemporary dilemmas and questions about the role and importance of European values in our societies.
You'll find all the materials on this website: https://depolarisation.eu/.
They are available in English, Croatian, Bosnian, and – soon – in German and Swedish.
For this project, we joined forces with HERMES (Croatia), Mreža Zapadnog Balkana (Bosnia and Herzegovina), Otvorena komunikacija | Open Communication (Serbia) i TRANSFORM (Sweden)
It was financed through the Erasmus+ programme with the support of AMPEU – Agency for Mobility and Programmes of the European Union.