Ukrainian refugees in Krzyżowa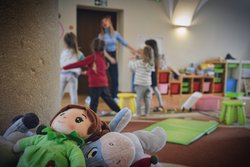 It was clear for the Krzyżowa Foundation for Mutual Understanding in Europe: We can help, so we do it. Donations were collected and rooms prepared to host refugees – sleeping rooms, a kitchen, a dining room, and two play rooms for children. Now, the Krzyżowa Foundation is offering accommodation for about 100 people fleeing the war in Ukraine; some of them are staying longer, some only for a short time. They are provided with the most basic necessities. Moreover, the Foundation team has been organising care and educational activities for children and helping the adults to complete formalities related to their stay in Poland. From 21st March on, the children has attended school in Grodziszcze und Świdnica.
Educational and exchange activities are being conducted as planned
Besides offering the refugee aid, the Kreisau-Initiative and the Krzyżowa Foundation keeps conducting their usual projects and educational activities. The events are taking place as planned and are not being affected by the aid measures. The Foundation's premises are large enough for everyone – for the refugees as well as for project participants.
Our work has never been so important as it is now. Everyone participating in our youth exchanges, training courses, and other projects supports Krzyżowa financially and ideally and contribute to building a European society that is characterised by democracy, solidarity, and sustainability.
There is still much to do!
We express our gratitude to everybody who is helping the Krzyżowa Foundation to provide refuge for Ukrainian people – donors, sponsors, individuals, institutions, partners, and organisations from Poland, Germany and other countries. Your support is invaluable and makes is possible to plan activities in a time when we don't know for how long our assistance will be needed. The needs are still large.
By donating, you can help the Krzyżowa Foundation for Mutual Understanding in Europe to pay the accommodation and care costs of the refugees and give them a safe place to stay for as long as it takes:
It costs 25 € to host an adult person for one day.
For 175 €, one refugee can stay in Krzyżowa for one week.
It costs 10 € to host a child (2-6 years old, up to 2 years free of charge) for one week.
For 350 €, five children can stay in Krzyżowa for one week.
Bank account details for donations:
From Germany:
Freya von Moltke-Stiftung für das Neue Kreisau
IBAN: DE79 1208 0000 4052 0068 00, BIC: DRESDEFF120
Subject: Ukraine-Aid in Krzyżowa + your name and address
From Poland:
Fundacja "Krzyżowa" dla Porozumienia Europejskiego
IBAN for Euro: PL27 1090 2369 0000 0001 1624 4433, BIC: WBKPPLPP
IBAN for PLN: PL03 1090 2369 0000 0006 0201 9216, BIC: WBKPPLPP
Subject Ukraine-Aid in Krzyżowa + your name and address
You may also choose to donate via a donation form on the platform Betterplace (payment methods: credit card, PayPal, SEPA direct debit, giropay) – see below.
Thank you very much for your support!