Podcasts from the project "In Between?
03.11.2021
|
Retrospective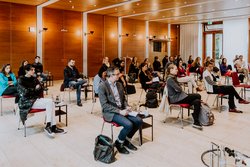 "In Between?" is a project to discover the history and present of European border regions, organised since 2016 by the European Network of Remembrance and Solidarity (ENRS). The Kreisau Initiative is a partner of the project. This year's programme included three regions: Poland's borders with Germany, Slovakia and Ukraine, which were explored by students during one-week study visits. The result was a total of four 30-minute podcasts, which were presented and discussed in Berlin.
The 24 participants were prepared for their explorations in the border regions through online workshops on the basics of oral history, how to podcast and how to use documentary photography. The on-site programmes in the three border regions included conversations and interviews with selected local actors and representatives of local government and civil society. The resulting podcasts in English are available here:
Lost Mosaic of the Borderlands
In 2021 the project was funded by the Foundation Remembrance, Responsibility and Future (EVZ) within the programme Europeans for Peace.