"JustNow – A Toolbox for Teaching Human Rights 2.0" – Es entstehen neue Materialien für Menschenrechtsbildung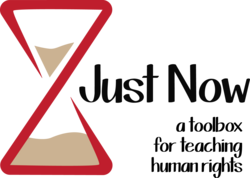 Successfully launched in 2018, the toolbox (www.teachjustnow.eu) will be expanded to include a range of animation movies, timelines, podcasts as well as lesson and activity plans for blended learning. The new materials will be available on a "JustNow 2.0" website.
For developing the materials, we have joined forces with:
- the Croatian Education and Development Network for the Evolution of Communication (HERMES), Croatia
- the International Association for Intercultural Education, Netherlands,
- the Krzyżowa Foundation for Mutual Understanding in Europe, Poland.
The co-operation is an Erasmus+ Strategic Partnership and co-financed by the European Union programme Erasmus+.