Governance Academy – a learning and networking opportunity for former project participants
02.05.2022
|
Call for applications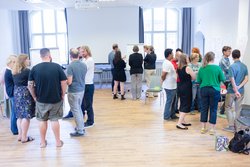 In recent years, we have experienced how a rapidly spreading and highly infectious virus can massively change our living conditions, but also our working environment, in a very short time. Global crises shape our time: from wars in different regions to the climate crisis.

How do I personally deal with these changes and how do I work in my institution under these circumstances: these are the challenges we are all facing at the moment. However, we do not only experience changes passively. We often want to actively implement changes in our organizations and our local context.

What attitude and what skills are needed to react to a rapidly changing environment and what skills and strategies can help to implement changes in rigid structures? Which competencies are sustainable? These and other questions will be discussed during our 3-day seminar and the topic of change will be explored in all its facets.
Executives and mid-career professionals from all sectors and regions are addressed as a target group, with the main focus on the members of the Governance Cluster of the Bosch Alumni Network as well as alumni of the Kreisau-Initiative and the Freya von Moltke-Stiftung.

What: Governance Academy
When: 20.09.-24.09.2022 (including arrival and departure days)
Where: Gazzada Schianno, Lombardy, Italy

The Governance Academy is a cooperation between the Robert Bosch Stiftung, the Kreisau-Initiative, the Freya von Moltke-Stiftung and the International Alumni Center as the manager of the Bosch Alumni Network.
Aims of the event:
discussing dealing with change on different levels and in different contexts,
strengthening of skills and competencies through different formats (expert inputs, practical workshops, peer-to-peer exchange, discussions),
creating a support network of committed professionals who want to implement change in their institutions or communities and thus strengthening the participants in commitment and ability to drive change.
Who are we looking for:
Experienced executives and mid-career professionals from different regions and sectors (government and local administration, business, academia, civil society) willing to drive change but confronted with obstacles and challenges.

The following criteria are required for participation:
several years of professional experience,
affiliation to and experience with the topic of change,
motivation for participation,
commitment and willingness to actively participate in the event.
Costs and conditions:
All selected participants will receive board and lodging. The seminar takes place at Villa Cagnola in Gazzada Schianno. All participants will be accommodated on-site in single rooms. The event is in English.
No participation fee will be charged. 75% of the 2nd class/economy travel expenses will be reimbursed. In justified cases of hardship, reimbursement of up to 100% of the travel costs can be requested.
Participation for the entire duration of the event (21-23 September) is binding.
As for now, only guests who have been immunized three times with a vaccine recognized in the EU or who have recently recovered (reinforced green pass) can be received at the event location. A corresponding proof will be requested by the reception.
Applications can be submitted until May 15, 2022, at 11:59 p.m. (CET)
Apply here

Contact for further questions:
Marta Kurek, governanceacademy [at] boschalumni.net

We look forward to your interest and applications!